If you're recently planning to renovate your new homes then it's best to start by giving your old windows a 'Facelift.' Now, recently, replacement windows in the market are of two distinctive types –
Tilt & turn windows
Casement Windows
When considering investing in replacement windows both are unique and come with their selective set of perks. However, to make the best buy, it's important to understand which type of window will suit your purpose best.

Tilt and Turn vs. Casement Windows
Design Features: Till & turn windows are fitted using a specialized hinge system that allows the window to be opened both like a casement, and inwards. For example, much like a hopper window a tilt and turn is mainly controlled via the handle and can provide the best of both windows.
Casement windows open wide out and have hinges at the bottom, top and sides. Those windows with the bottom and top hinged ones are moreover, generally open inwards.
Visual Appearance: In normal scenarios both tilt and turn and casement windows do not offer any specified differences in visuals when closed. However, the former has a more funky style as it can be opened both inwards and outwards.
Security Options:  Tilt & turn windows along with casement windows both offer multipoint lock system, thus chances of breaking are less likely. However, imagine this scenario, as tilt and turns open inwards yet, it doesn't open all the way. So, suppose you've opened it for minute ventilation, any potential perpetrators will not be able to sneak in with ease as the opening of the window is small.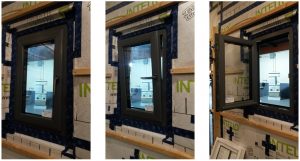 Energy Efficiency: Both tilt and turn windows and casement windows are made from double glazing and hence, are quite energy efficient. The thickness will be determined as per the Double glazing applied. For example, 28mm units in double glazing will save more energy than a 24mm unit.
However, compared to casement windows, ventilation is better offered in tilt and turns. The reason is the tilt function helps in eliminating warm air quickly from homes. Additionally, for colder areas, the tilt option also acts as a barrier and prevents a gush of a cool breeze to enter.  Thus, it offers better insulation too, especially if it's filled inside with Argon gas. This helps in better warmth and cuts down energy bills by 50% as it offers exceptional insulation.

Maintenance: When it comes to maintenance, tilt and turn windows are easier to handle than regular windows. The reason being, cleaning casement windows that open outwards are a hassle, but as tilt and turns can be maneuvered to open inwards, you can stand inside your home and reach difficult layers of the window's exterior for cleaning purpose.
So, weighing out the pros and cons, of both types of replacement windows, it's better to invest in a tilt and turns as these offers the following perks:
They open wider and offer better aesthetics.
Better insulation along with ventilation options.
More styles available and can be available up to 32 s.f
More energy efficient.
Well, now that you know which window to pick, hurry and find a suitable contractor now, and install your replacement windows on time.